The Advantages of Programmable Thermostats
Whether you're looking to upgrade to smarter and more environment-friendly heating and cooling systems or just to trim a few dollars off your monthly bill, you'll find a good reason to make the switch to programmable thermostats. Any advanced HVAC contractor will admit that this new technology is the best solution when it comes to automating your home's air conditioning. It's not surprising that demand for programmable thermostats has increased in recent years.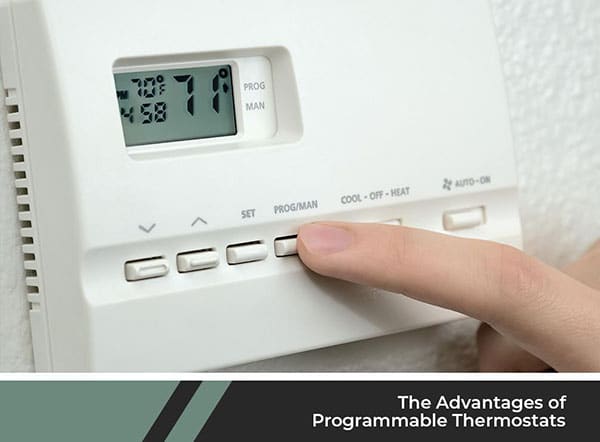 Let's take a look at all the benefits that programmable thermostats offer and how you can enjoy them yourself.
Energy Costs
Ask an HVAC contractor and they'll tell you the biggest attraction of this particular device is the savings you make from utility bills. With a programmable thermostat, you can place your air conditioning on a schedule to automatically adjust the temperature during seasons. You can set it to lower temperatures in the winter whenever you're at work or sleeping, or even turn off completely when you're not around.
The Department of Energy reports that every degree you change on your thermostat (lower in the winter, and higher in the summer) is equivalent to almost 1% off on your monthly energy consumption.
Efficiency
An effective system that many HVAC contractors recommend is known as zoning. Zoning involves dividing your home into "zones" or separate areas with its own thermostat. In this way, temperatures can be automatically adjusted to only affect rooms where there are people. If you're in a household that doesn't necessarily use all rooms at the same time, a programmable thermostat can help make "zoning" much easier, saving you money on costs.
HVAC Optimization
If you're looking to upgrade a decade-old HVAC system, any HVAC contractor will recommend pairing your new system with a programmable thermostat to help adjust to your home's needs. Installing a programmable thermostat is simple with the help of Anderson Air Corps. Give us a call at (505) 855-9028 so that we can answer all your questions about this incredible innovation. With over 50 years of experience, our services are second to none in Albuquerque, NM, and the surrounding areas.