Bernalillo
Bernalillo is a vibrant little city in New Mexico that has a rich history in the wine industry. The wine grape was first introduced in the 1620s, and local families began making their own wine from local vineyards. Today, the wine industry is still strong in Bernalillo with the New Mexico Wine festival bringing in people from all over the state and beyond each Labor Day.
Though the city began as a small community on the outskirts of Albuquerque, the population of Bernalillo NM continues to grow each year as the town has developed into a bustling city. The small town charm of Bernalillo creates a tight-knit and friendly community, which Anderson Air Corps has been honored to serve when it comes their HVAC needs.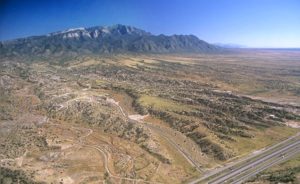 Anderson Air Corps is a licensed heating and air conditioning company that has been providing quality HVAC services to families and businesses in Bernalillo and the surrounding communities for over 50 years. With a dedication to excellent service and quality products, we have earned a reputation as one of the best HVAC companies in the area.
Read on to find out more about who we are and how we can help keep home and business owners in Bernalillo comfortable year-round.
Bernalillo NM Air Conditioner Repair, Maintenance, and Installation
When the hot summer approaches in New Mexico, you are going to need a place to cool down, especially when temperatures reach up into the 90s. Bernalillo homeowners and local businesses trust Anderson Air Corps for all of their air conditioning repair, maintenance, and installation needs. With our skilled technicians and quality products, we have built a name for ourselves within the community as the people to call when you need air conditioning services.
Here are just a few of the ways that Anderson serves the Bernalillo community's air conditioning system needs:
Air Conditioner Installation and Replacement – As a factory-authorized Carrier brand dealer, we have a wide range of cooling systems and products for every home comfort need. Our technicians will recommend the best unit for your home and provide excellent installation so you cool down.
AC Maintenance – One of the best ways to keep your energy bills down is by making sure that your AC is running efficiently. Routine maintenance ensures that your system is clean and running smoothly throughout the year.
Air Conditioning Repair – Contact us at the first sign of trouble for effective and affordable AC repair. Our technicians can repair all makes and models of air conditioners.
Not sure if you need a new system or just a repair? Contact us today, and we will send out an HVAC technician as soon as possible to diagnose your problem. If it turns out that you do need a new HVAC system, we will recommend the best fit for you based on the size of your home and your budget.
Bernalillo NM Heater and Furnace Repair, Maintenance, and Installation
As winter approaches in Bernalillo, average lows range from 22 to 25 degrees Fahrenheit with average highs in the high 40s to low 50s. This is not exactly the best time for your heater to give out, but many homeowners find that their furnace or heating system may experience issues after sitting dormant for the summer.
That's where we come in. The heating experts at Anderson Air Corps are ready to help you prepare for winter and make sure you stay comfortable throughout the season and beyond. Here are some of the HVAC services we offer to help you stay warm in winter:
Heater and Furnace Installation – If you need a new furnace or you want to replace an older model, our team will help you find the right size unit for your home that's within budget and provide expert installation services to ensure you're not left out in the cold this winter.
Heating System Maintenance – Most homeowners want to get their money's worth when it comes to their HVAC investment. Routine maintenance is the best way to ensure that you are getting the most life out of your unit while reducing energy bills. Our maintenance agreements make it easy to get regularly scheduled maintenance year-round.
Heater and Furnace Repair – If you notice that your heater is malfunctioning or just not quite heating your home like it used to, it is time to call in the experts. We will evaluate your system and see what repairs or needed.
If you haven't turned on your heating system since last winter, call us today for a heater or furnace tune-up. Our technicians will clean your entire system and check it for any necessary repairs before the cold weather hits.
Bernalillo NM Indoor Air Quality Experts
Monitoring and improving indoor air quality is an important part of keeping your family healthy and preventing illness. Even if you change your air filter regularly and keep your home clean, other pollutants and allergens can still enter your home from outside. An indoor air quality check can help you determine if the air inside your home is safe to breathe.
The indoor air quality experts at Bernalillo can help you improve your indoor air quality for maximum home comfort. Our HVAC technicians will test the quality of the air inside your home. If there are any problems or concerns, we can then recommend the best next steps. We have a wide variety of HVAC upgrades like humidifiers, dehumidifiers, air purifiers, and specialized filters that you can use in your Bernalillo home to improve the quality of the air that you and your family breathe on a regular basis.
No matter what season it is or what your HVAC needs may be, Anderson Air Corps is ready to help you achieve optimal home comfort. Having worked in the area for more than 50 years, we know what it takes to keep you comfortable year-round. The best part is that we are only a phone call away, so contact us today to learn more about our quality heating and cooling services and products.