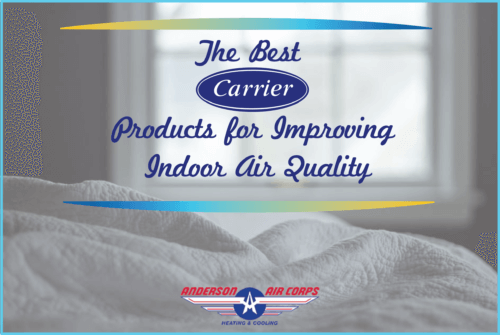 Carrier is known for offering quality products that help homeowners reach ultimate home comfort levels year-round. Anderson Air Corps, your Albuquerque HVAC team of experts, are a factor authorized dealer of Carrier products, which means we are knowledgeable about Carrier products and systems and know how to provide proper installation and maintenance.
Not sure about what Carrier has to offer? We have put together some of the best Carrier products for Arizona homeowners to improve indoor air quality.
Albuquerque Indoor Air Quality Products from Carrier
Albuquerque has a unique climate, and some homeowners may find it necessary to use special indoor air quality products to keep their home comfortable for every member of the family. Here are our top pics for Albuquerque indoor air quality products from Carrier:
Air Cleaners
Carrier offers a variety of air cleaning products that work within your budget, including:
Infinity® Series Air Purifier – An award-winning air purifier that captures and kills airborne pathogens to keep your whole home clean year-round.
Performance™ Series Air Purifier – This model uses the same Captures and Kills™ technology as the Infinity® Series Air Purifier, in a more budget-conscious model that is designed to fit narrower installation spaces.
Comfort™ Series EZ Flex™ Cabinet Air Filter – This is an affordable cabinet air filtration system that helps improve indoor air quality and system performance to keep air flowing more cleanly and efficiently throughout the home.
Humidifiers
Carrier also offers a variety of humidifiers to give homeowners better control over humidity levels, including:
Performance™ Series Steam Humidifier – These humidifiers are an excellent choice for homeowners who want greater control over humidity in larger homes. This device creates steam and disperses it into the ductwork, and homeowners can manage humidity levels through the systems Infinity® control or the Edge® thermostat.
Performance™ Series Fan-Powered Humidifiers – Powered by fans, these humidifiers blow moisture directly into the ductwork, spreading it throughout your home for more comfortable humidity levels.
Performance™ Series Bypass Humidifiers – These humidifiers are whole-house systems are easy to maintain. They use the blower motor of the furnace to drive more moisture into your home's ductwork.
Ventilators
When the air starts to feel a little stale in your home, these Carrier ventilators can help freshen the air a bit:
Performance™ Series Energy Recovery Ventilators – When the air starts to get hotter and stickier in the summer, these ventilators help replace the stale indoor air with fresh air from outside.
Comfort™ Series Energy Recovery Ventilators – This energy recovery ventilator is more budget-conscious and can fit in smaller and narrower installation spaces.
Performance™ Series Heat Recovery Ventilators – The heat recovery ventilator makes sure that your indoor air is fresh even when things start to cool down outside.
UV Lamps
Another option that Carrier provides for improving indoor air quality are UV lamps:
Performance™ Series Germicidal UV Lamps – These Carrier UV Lamps kill organisms that grow on indoor cooling system coils. By eliminating mold and bacteria, this device can help improve the quality of your indoor air while also enhancing system performance.
You can browse our Carrier indoor air quality products on our website or give us a call at (505) 855-9028 to discuss which IAQ products might be right for your home comfort needs.