Improve Your Curb Appeal with These 4 Projects


First impressions matter, especially when it comes to how your home appears to onlookers. If you're looking to resell your home at some point, curb appeal matters even more. But, it's also an important consideration to keep in mind if you're not planning on moving soon. Wouldn't you like to come home to a place that you find enjoyable to look at? We thought so.
Luckily, there are many small home improvements you can make that will improve your home's curb appeal. Below, we'll share just a few.
Home Improvement Projects to Improve Curb Appeal
Want to transform the look of your home? Take a look at some of these ideas to transform your home from mediocre to marvelous!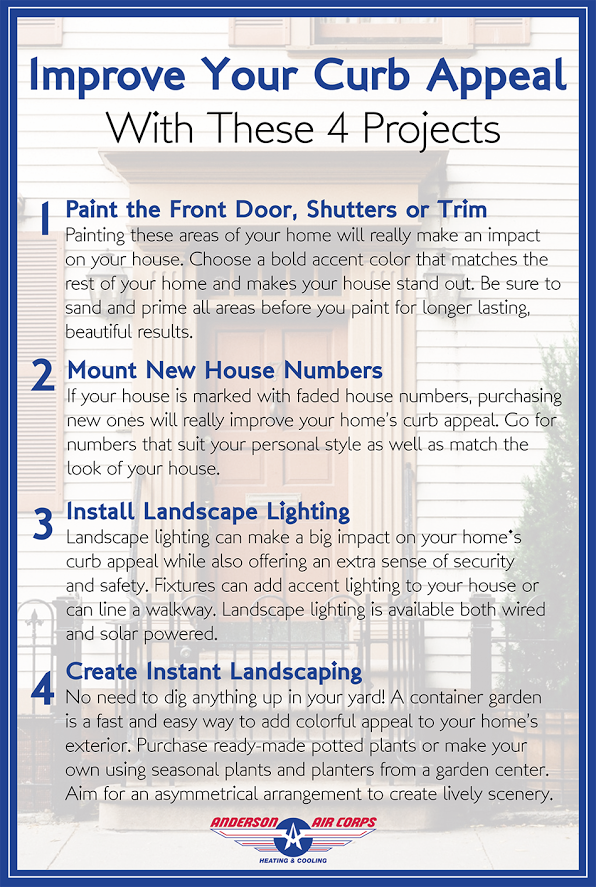 Attention Homeowners!
Curb appeal isn't the only factor you'll need to consider to make your home a great place to live. Your HVAC system is also an important part of your home comfort. That's why it's so important to stay up-to-date with routine maintenance and get your system diagnosed and repaired when you experience a break down.
If you live in the Albuquerque area and are in need of residential HVAC services, you're in luck! We're experts in the business and have been at it for over 50 years. Give us a call today to learn about our expert technicians and the services they can provide to your home.