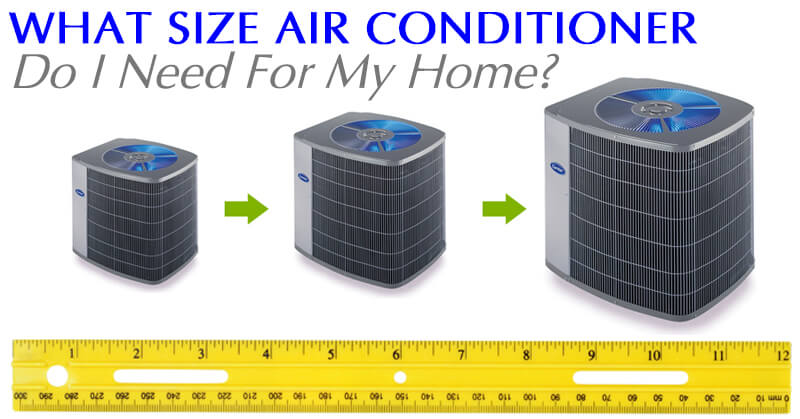 Getting a new air conditioning is a big expense and a big choice. How do you know which unit is right for your home? To make sure your indoor space is comfortable, that it is cooled efficiently, and that you won't be paying too much on your energy bills, picking the right size for your new AC unit is a good place to start.
Factors to Help You Choose the Right Size AC 
The size of AC unit you choose is important. Go too small and it will run constantly without ever cooling your home adequately. With a unit that is too large it will cycle off rapidly and never really cool the structure of your home. Here are some important factors to consider for picking the right size:
How big is your home?
An obvious consideration is the size of your home. AC units are sized by TON rating, or cooling capacity. The larger your home, the higher the rating you need. It is important to consider volume of space too, not just square footage.
What about windows and insulation?
It's also important to think about how your home holds on to heat. If you have good insulation and newer windows, you can make do with a smaller AC. With poor insulation or older windows, a larger unit may be needed to keep your home cool.
Do you get a lot of sunlight? 
Where those windows are in the home and how much heat they let in is also important. If you have a lot of south-facing windows or a lack of shade around windows, you may need a larger AC unit to cool your space adequately.
Making the Most of Efficiency
Efficiency is another important factor to consider when choosing what size air conditioner you need for your home. It is important in making your home as comfortable as possible without paying too much each month. If you have factors that make your home more difficult to cool, you might want to address those before getting a new AC: get better insulation, change out your windows, or plant shade trees.
You can also look for a unit that is the right size for your home, but that has a high SEER rating. This is the rating that tells you about efficiency. The higher the rating, the more energy efficient the unit is. A high SEER unit may cost more, but it could save you money in the end. If you're stuck and unsure what unit is right for you, let one of our experts help. And keep checking back in with our Anderson Air Corp blog for the latest HVAC information and more helpful tips.