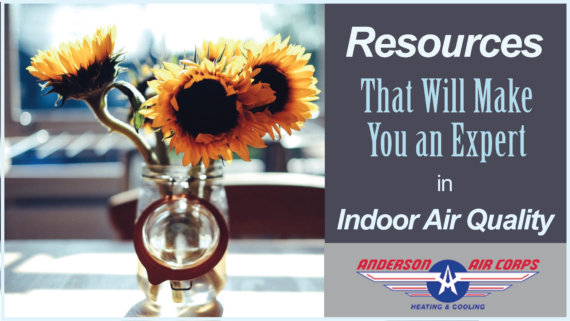 Indoor Air Quality is important for both home owners and business owners alike. No matter what your role, if you're like most people, you probably spend most of your time indoors. Therefore, you should fully understand how the quality of the air affects you, your loved ones, or your employees.
Poor IAQ can negatively affect the quality of life for all individuals exposed to it. Experts estimate that indoor air can be up to 10 times more polluted than outdoor air. Breathing in polluted air can lead to health concerns ranging from annoying headaches to more serious health complications. Because of this, it's a good idea to really understand what IAQ is, how you can assess your own home or business's air quality, and what steps to take if your air quality isn't very good.
Indoor Air Quality Resources
We've gathered together a list of resources that will help you become an expert in indoor air quality. Many of these sites are comprehensive in both information, as well as recommendations for outside IAQ resources, so we encourage you to explore each site in depth for a comprehensive look at Indoor Air Quality.
The United States Environmental Protection Agency's website is a great place to start for all your air quality related info, including several guides on various IAQ concerns. Since their main mission is to protect human health and the environment, including promoting national efforts to reduce environmental risk, monitor enforcement of federal laws, and well as playing a leadership role in working with other nations in environmental protection, you'll be sure to get comprehensive info about IAQ from this website.
Another great resource to check out for information on Indoor Air Quality is the American Lung Association. This organization works to defeat lung cancer and improve the air we breathe, so this site is chock-full of information about improving your home and business's IAQ. This site also has a handy resource where you can find data on IAQ by state and region. Check out org for info on why IAQ matters to your health.
The United States Department of Labor Occupational Safety and Health Administration gives an in depth look at indoor air quality, including the importance of IAQ, guides explaining workers' rights and employer responsibilities, IAQ for schools, building management resources and more. Visit gov for more information.
The United States Consumer Product Safety Commission has partnered with the EPA to bring consumers A Safety Guide on Indoor Air. This safety guide covers all the bases from "What causes indoor air problems?" to tackling problems through proactive solutions. There is a broad guide on the pollutants themselves, which will arm you with important info on what to look out for in your own home or business, and how to test for dangerous pollutants.
Your health is important, and it starts with the quality of the air you breathe each morning, day, and evening. We at Anderson Air Corps are experts in indoor air quality and can provide you with a variety of products as well as expertise that will help you achieve better indoor air quality for years to come. Learn more about our indoor air quality services here.
http://andersonaircorps.com/wp-content/uploads/sites/65/2017/01/AndersonResourcesThatWillMakeYouanExpertInIndoorAirQuality_Jan20.png
2581
4583
jbenbrook
http://andersonaircorps.com/wp-content/uploads/sites/65/2016/02/anderson-logo-small.png
jbenbrook
2017-01-23 17:03:17
2017-01-23 17:03:17
4 Resources That Will Make You an Expert in Indoor Air Quality