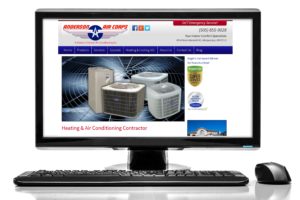 We, Anderson Air Corps, have recently modified our website (http://andersonaircorps.com/) to enable our clients access our information easily and fast. Our quest to satisfy our clients in Albuquerque, Rio Rancho and Santa Fe, NM area goes beyond providing them quality HVAC products and services. Just as we take time to assess clients' HVAC needs and equipments before recommending the best products and appropriate services, we take time to assess their need for HVAC information before modifying our website for easy navigation. And just as HVAC equipments need regular check-ups, repairs and servicing to continue for top-notch service, we believe updating our website, regularly, can make our information easily available to clients.
New features
Our history and contacts
We have been in business for the last 5+ decades and have made our mark as one of the best HVAC contractors in Mexico. You can easily access our history, mission, customer bill of rights and contact details on our website's Home, About Us and Contact Us pages. Understand your HVAC equipment and need for professional services by visiting our Heating & Cooling 101 page.
Products
We are Carrier Authorized Dealer. Our website's Products page furnishes our clients information about the HVAC products we deal. We have evidence that Carrier products are durable, effective and energy efficient; that is why we recommend them.
Services
Our range of HVAC services includes supply, installation, maintenance/ service, replacement and repair of any and all types of heating, cooling and air conditioning equipments. Although a Carrier Authorized Dealer, our technicians have the training, skills and experience to handle any brand of HVAC equipment. We serve residential, commercial and facility clients in Albuquerque and surrounding areas.
Specials
Our Specials page contains information about the offers and financing options that can make our clients' HVAC equipment acquisition and services affordable. In conjunction with Wells Fargo Financial National Bank, our clients can get financing to purchase new Carrier equipments at low monthly payments, lenient and flexible terms, as well as preferred interest rates. Our rebates and coupons enable our clients upgrade their HVAC systems and access our professional services at reduced prices.
Conclusion
The information above is only an overview of our website. For detailed information on any of the above features, feel free to visit the specific pages for comprehensive, yet easy to understand information. Contact us via phone, office visit or online form for any inquiries or to schedule our services.
http://andersonaircorps.com/wp-content/uploads/sites/65/2014/08/AndersonAirCorps-Redesign-Blog-Image-08-05-14.jpg
2650
3974
1450wpczar
http://andersonaircorps.com/wp-content/uploads/sites/65/2016/02/anderson-logo-small.png
1450wpczar
2014-08-22 07:48:33
2016-09-22 21:13:28
New Look For The Anderson Air Corps Website